Description
Filip Leu Book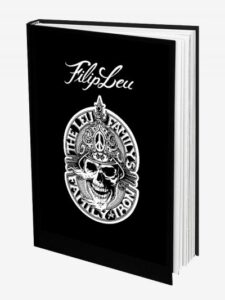 Filip Leu is by far one of the most recognized Tattoo artists from Switzerland.
Discover this unique book dedicated to the life and art of Filip Leu. This unprecedented, encyclopedic volume spans the 40-year career of the Swiss master: with over 600 pages, over 1000 tattoos and thousands of photographs, it tells the story of an amazing artist, globally considered the greatest innovator of contemporary Oriental tattoo style.
Filip Leu ist mit Abstand einer der bekanntesten Tätowierer aus der Schweiz.
Entdecken Sie dieses einzigartige Buch, das dem Leben und der Kunst von Filip Leu gewidmet ist. Dieser beispiellose, enzyklopädische Band umfasst die 40-jährige Karriere des Schweizer Meisters: Mit über 600 Seiten, über 1000 Tätowierungen und Tausenden von Fotografien erzählt er die Geschichte eines erstaunlichen Künstlers, der weltweit als der größte Innovator des zeitgenössischen orientalischen Tätowierungsstils gilt.
Filip Leu est de loin l'un des tatoueurs les plus reconnus de Suisse.
Découvrez ce livre unique dédié à la vie et à l'art de Filip Leu. Ce volume encyclopédique sans précédent couvre les 40 ans de carrière du maître suisse: avec plus de 600 pages, plus de 1000 tatouages et des milliers de photographies, il raconte l'histoire d'un artiste étonnant, globalement considéré comme le plus grand innovateur du style de tatouage oriental contemporain.