Description
Limited edition #1018 of 1500 hand numbered copies
BloodWork: Sleeves is a collaborative project produced by the Analog Tattoo Arts Kolectiv (ATAK). The stated goal is to document, exhibit, & publish a comprehensive collection of sleeves by the WTC (World Tattoo Community: abstract concept). Tattooers & collectors from around the globe graciously contributed to this complex collective undertaking. During photo shoots on several continents (San Jose, London, Zurich, & Los Angeles) sixty-seven sleeves were extensively documented by house photographer Max Dolberg.
Next the raw material was combined into three dynamic composite models: windmill, wingspan, & rotation. The intent of the final product is to offer a unique & singular view of the sleeve that, as of yet, has not been put forth. The extensive range of work within the BloodWork: Sleeves catalog aspires to provide a broad view of the efforts of contemporary tattooers working today. The ultimate purpose is to compile an unparalleled historical document for review by this & future generations. BloodWork: Sleeves is a by tattooer for tattooer endeavor. This (ad)venture would not be possible without the support of many ardent individuals within the craft. 67 sleeves.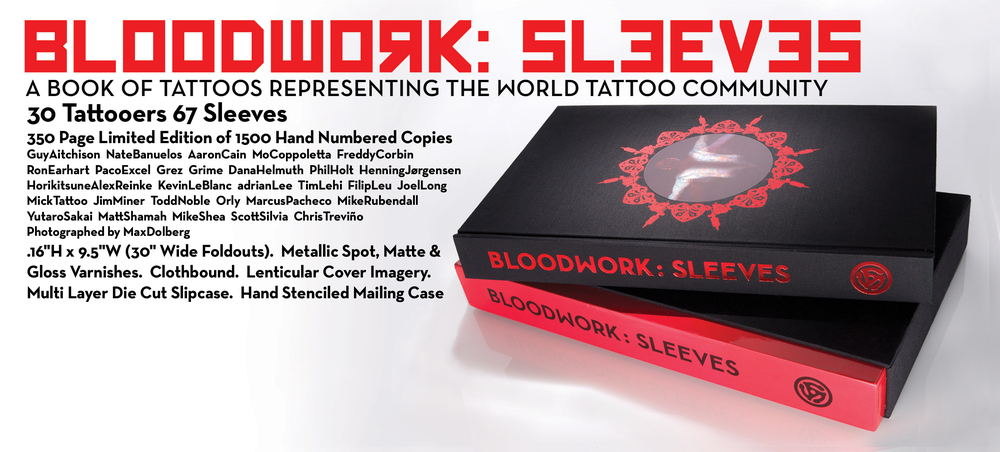 Limited edition of 1500 hand numbered copies. 300 hand bound pages printed on heavy art paper. Metallic, spot matte & gloss varnishes. Clothbound w/ lenticular cover imagery. Multi layer die cut slipcase. guy aitchison, nate banuelos, aaron cain, mo coppoletta, freddy corbin, ron earhart, paco excel, grez, grime, dana helmuth, phil holt, henning jørgensen, horikitsune alex reinke, kevin leblanc, adrian lee, tim lehi, filip leu, joel long, mick tattoo, jim miner, todd noble, orly, marcus pacheco, juan puente, mike rubendall, yutaro sakai, matt shamah, mike shea, scott silvia, chris trevino.
Hardcover: 300 pages
Publisher: BloodWork Books; 1st Hand Numbered Edition of 1500 edition (October 29, 2009)
Language: English
ISBN-10: 0972857842
ISBN-13: 978-0972857840
Package Dimensions: 17.1 x 10.1 x 2.2 inches
Shipping Weight: 11.6 pounds